The webinar will take place on 11 June
Published on June 1, 2021
The Brazilian scenario of fuel decarbonisation is expanding. In this regard, ProQR invites everyone to the Webinar "Clean Aviation for Brazil – Sustainable fuels in the Brazilian political context", which will be broadcasted via MS Teams on 11 June, from 11am to 12:30pm (GMT -03).
The event will present the Project's proposal for cleaner aviation, within the concept of decentralised production of Power-to-Liquid Sustainable Aviation Fuels (PtL SAF). It will also raise discussions about the potential for expansion of PtL SAF in the current Brazilian context and the Project's role in this scenario.
The event refers to the recently launched Fuel of the Future Programme. Its main objective is to stimulate the use of sustainable and low carbon fuels and the strengthening of national technological development, in order to make the Brazilian transport matrix cleaner and more sustainable. Under the leadership of the Ministry of Mines and Energy (MME), the Programme has a subgroup that addresses the topic of Sustainable Aviation Fuels (SAF). This promises to boost projects for the construction of the first PtL SAF pilot plant in the country.
In this advantageous context for the development of clean aviation in Brazil, the ProQR Webinar will count on the following speakers: Marcos Oliveira Costa, current Project Director and responsible for the Sectorial Articulation and Pilot Plants Components; Eduardo Soriano Lousada, Director of the Applied Technologies Department of the Ministry of Science and Technology (MCTI); and Pietro Mendes, Director of the Biofuels Department of the Ministry of Mines and Energy (MME).
The event will be broadcasted in Portuguese and will offer simultaneous translation into English.
To participate, send an email to proqr@giz.de with Subject: Registration Webinar.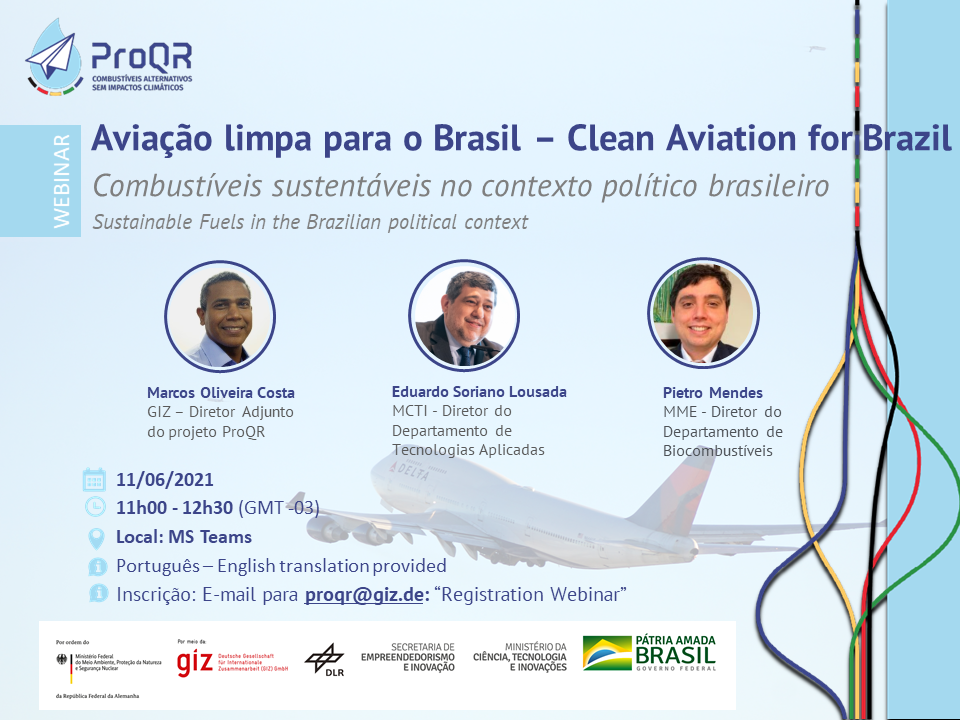 Contributor to this article is Ruth Barbosa.