New study on Power-to-X production with geothermal energy in El Salvador, Chile, and Kenya
When it comes to geothermal energy, geographic limitations and high development costs have so far limited its global expansion. Energy losses during long distance transport restricted economic utilisation and led to a predominantly regional usage of this renewable energy source.
This could change with Power-to-X (PtX): Since hydrogen and PtX products such as green ammonia can be transported, PtX can make geothermal energy a commodity. Countries with a significant share of geothermal sources in their energy mix can leverage this potential and realise economic, ecological, and social co-benefits when producing PtX with geothermal energy.
One of the co-benefits is the simultaneous provision of electricity and heat with a high amount of full load hours. The provided heat can be used for several applications along the PtX value chain, for example to regenerate a membrane used for direct air capture or to provide heat to solid oxide electrolysers. The provision of carbon for the synthesis of hydrocarbons can be counted as another additional benefit.
Our new study analyses the current situation and opportunities of geothermal energy for PtX, focusing on El Salvador, Chile, and Kenya:
Status quo analysis of PtX projects using geothermal energy
Potential and cost analysis of geothermal energy generation internationally
Economic, ecological, and social co-benefits and effects
Deep dive assessments of geothermal potentials for PtX in El Salvador, Chile, and Kenya
Potentials and recommendations to develop geothermal PtX in El Salvador, Chile, Kenya, and beyond
Click below to read the publication (in English). The appendices can be found here.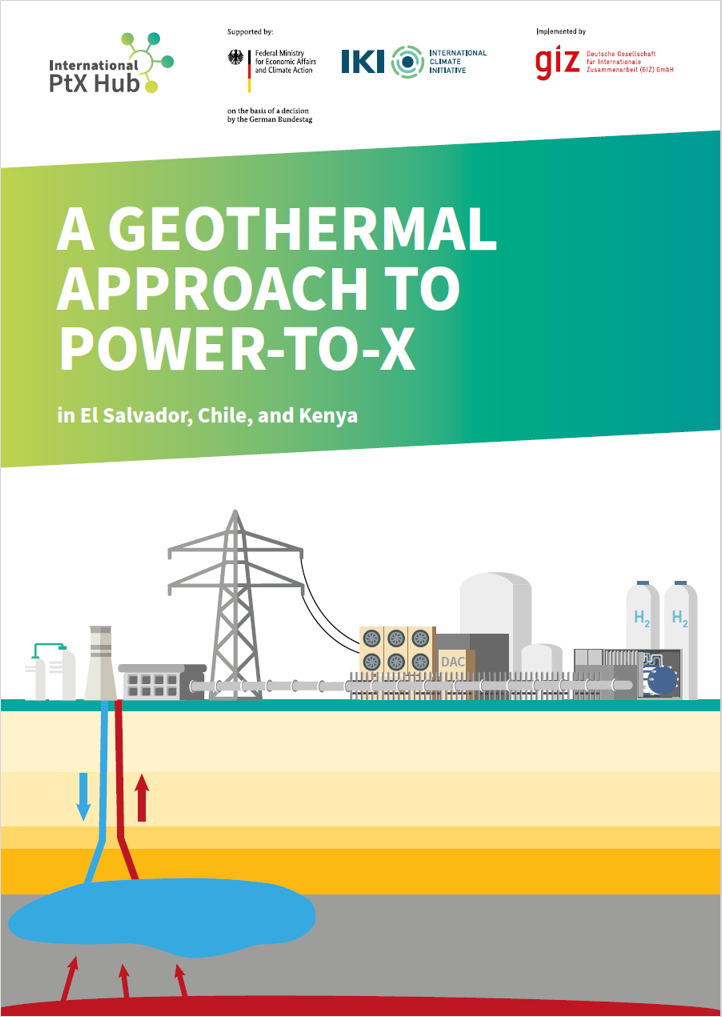 Read more about Chile and Kenya on their way to become green hydrogen hubs and about making direct use of geothermal energy in Central America here.