According to the International Energy Agency (IEA), around 4 per cent of global gas demand is used to produce ammonia, a primary feedstock for nitrogen fertilisers. This makes the global fertiliser production responsible for more than two percent of global greenhouse gas emissions. Because of such intense reliance on fossil gas, price volatility in the natural gas markets also affects the fertiliser industry and subsequently food prices.
Being one of the world's most important food producers and exporters, fertilisers and green ammonia are key to Argentina's energy transition. Currently, the country's agricultural industry is highly dependent on fertiliser imports and conventional ammonia production. With Power-to-X, Argentina can use its high renewable energy potential to produce green ammonia from green hydrogen. Decoupling fertiliser manufacture from natural gas markets will help bring down fertiliser prices, increase the sector's resilience and support the defossilisation of Argentina's industry.
The policy brief by our partners Agora Industry, Agora Energy Transition and Fundación Torcuato di Tella under the umbrella of the International PtX Hub highlights the opportunities for Argentina to become a hub for green ammonia.
Click below to read the policy brief (available in English and Spanish).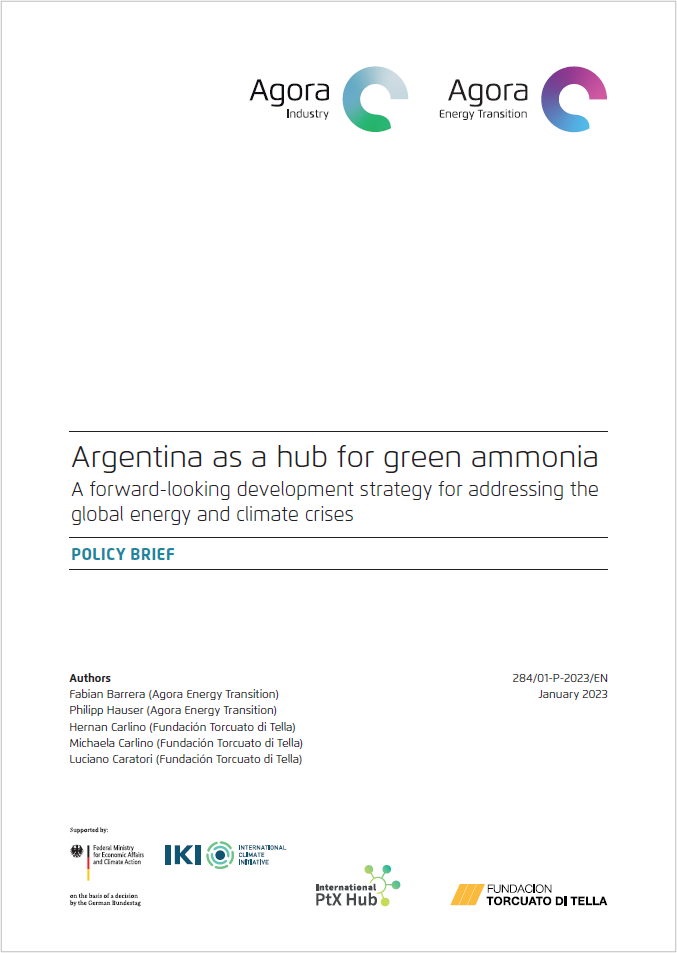 Read more about catalysing long-term defossilisation pathways through Power-to-X in Argentina here.