Published on October 12th, 2021
What is the Fit for 55 Package?
Presented on the 14th of July 2021, the European Commission's new climate policy package, dubbed the 'Fit for 55' package, consists of a total of 13 initiatives that aim to align EU policy with the European Green Deal and EU climate law. The aim is to put the EU on course to meet its target of a 55 per cent reduction in greenhouse gas emissions by 2030 relative to 1990 levels. However, the new policies require approval by member states and the European Parliament, a process which could take approximately two years.
Although the full hydrogen and decarbonised gas market package is not expected to be released until December 2021, the renewable and low-carbon sector are well-represented across the initiatives already announced.
Of particular relevance to green hydrogen and PtX are the following documents:
1. Amendment to the Renewable Energy Directive (RED II) to Implement the Ambition of the New 2030 Climate Target
This amendment increases the EU's target for renewable energy from 32% to 40% by 2030. Specific targets for renewable energy use in industry, heating and cooling, buildings and transport are set. Furthermore, the amendment establishes new and impressive sub-targets for the use of Renewable Fuels of Non-Biological Origin (RFNBOs) by 2030: 50% in industry and 2.6% in transport. Overall, this totals five million tonnes of green hydrogen per year for industry, alongside a further five million tonnes for transport. In addition, the amendment extends the EU-wide certification for renewable fuels to include green hydrogen, which would allow green hydrogen producers to obtain a premium for their product.
Such ambitious targets have been hailed a "true game-changer" by the Renewable Hydrogen Coalition, which is a leading voice for the green hydrogen industry in Europe. However, it is crucial that hydrogen is produced using additional renewables that are mandated in order to meet consequential high electricity needs.
2. ReFuelEU Aviation – Sustainable Aviation Fuels
This initiative promotes sustainable aviation fuels (SAFs), which can take the form of either advanced biofuels or synthetic fuels (for example, PtL based on green hydrogen) in aviation. It proposes EU-wide harmonised rules for SAFs that apply to both airline operators and fuel suppliers. Airlines must increase the amount of SAF-blended aviation fuel used for flights departing from EU airports. Fuel suppliers must ensure the inclusion of increasing levels of SAFs with minimum shares of synthetic aviation fuels in jet fuel from 2030 to 2050: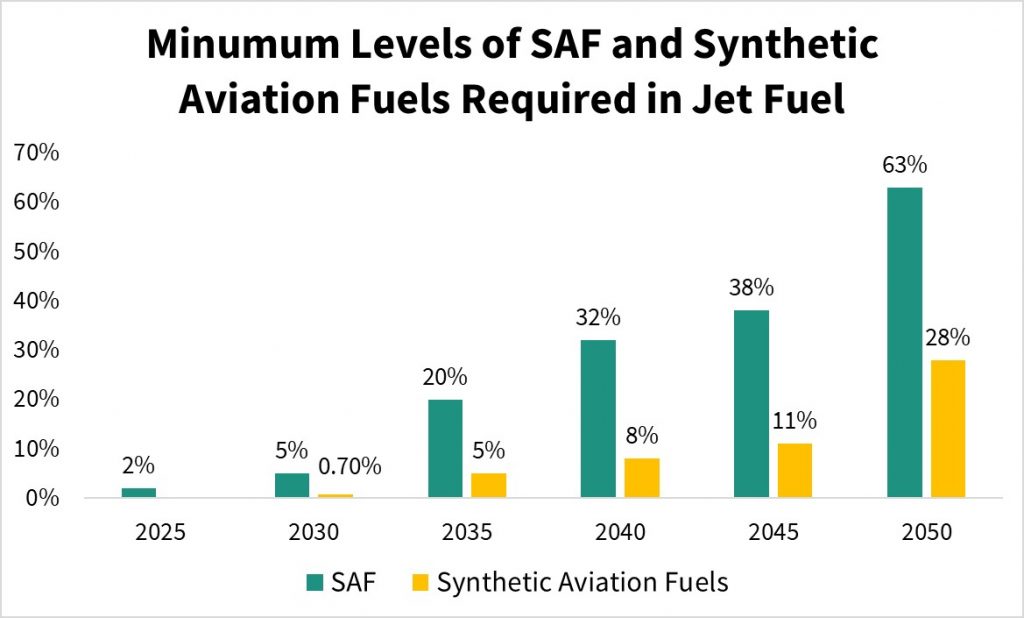 As the first serious attempt to require a fuel shift from fossil fuels to SAFs in the aviation sector, this has been called a "breakthrough" by Transport & Environment, Europe's leading clean transport campaign group. Yet, there should be greater emphasis on synthetic aviation fuels than biofuels. Ambitious targets and safeguards here are essential.
3. FuelEU Maritime
This proposal encourages the uptake of sustainable maritime fuels and zero-emission technologies by setting a maximum limit on the greenhouse gas (GHG) content of energy used by ships calling at European ports. Targets are determined in relation to the average GHG intensity of energy used on-board by ships in 2020. The following reduction targets will be implemented: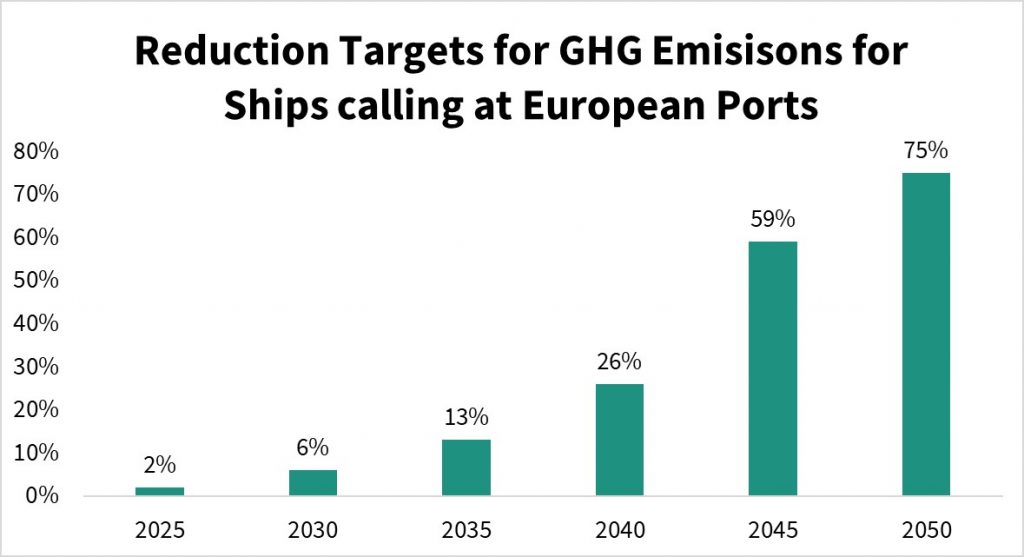 Notably, the proposal accommodates all renewable and low-carbon fuels in marine transport. This includes biofuels, e-liquids, decarbonised gas (including bio-LNG and e-gas), green hydrogen and PtX, as well as electricity.
As the maritime sector relies at present almost entirely on highly polluting and carbon-intensive liquid hydrocarbons (such as heavy fuel oils, marine diesel oil and gas oil), this proposal indicates a significant shift in policy and practice. However, the European Commission has been criticised for encouraging the use of biofuels and LNG. It is essential that reliable mechanisms to incentivise the uptake of sustainable maritime fuels are put in place.
4. Revision of the Energy Tax Directive
This revision establishes preferential tax rates for the use of green and low-carbon hydrogen for end consumers. This includes minimum tax rates applicable to aviation fuels used on flights within the EU. These proposed tax rates will gradually increase over 10 years to reach a minimum rate of €10.75/GJ EU-wide, which would equate to approximately €0.37/litre of kerosene. For a flight from Berlin to Rome (approx. 1250km), this would result in an additional cost of €19.30/person (52.20 litres of kerosene/person). Sustainable and alternative fuels will benefit from a zero-minimum tax rate. Furthermore, airlines are encouraged to use more efficient and less polluting aircrafts. Although this will stimulate greater SAF usage, cargo-only flights are exempt from the fuel tax.
Concerning the shipping sector, this revision puts forward minimum tax rates to encourage a transition to sustainable maritime transport fuels. It also introduces a minimum excise duty rate on the relevant fuels used for intra-EU ferry, fishing, and freight vessels. These minimum rates will reflect the extent to which the sector is at risk of carbon leakage. To limit the higher risk of bunkering (when vessels used for voyages within the EU are fuelled outside the EU), shipping fuels are subject to low tax rates. To encourage the use of clean energy in line with the FuelEU maritime initiative, sustainable and alternative fuels will enjoy a minimum zero tax rate for a transitional period of 10 years when used for waterborne navigation.
5. Other Documents – Key Points:
Other upcoming initiatives also include policies that are of direct relevance to green hydrogen and PtX:
Carbon Border Adjustment Mechanism (CBAM):

The proposal incentivises the use of green hydrogen.

Revision of the Directive on Deployment of Alternative Fuels Infrastructure:

The revision supports the development of alternative fuels infrastructure, including refuelling points for hydrogen.

Amendment of the Regulation Setting CO2 Emissions Standards for Cars and Vans:

The amendment mentions hydrogen as a decarbonisation option for heavy-duty vehicles in pursuit of emission reductions.

Revision of the EU Emission Trading System:

The revision includes the production of hydrogen using electrolysers.
It also envisages the return of a proportion of revenues to subsidise the development of zero-carbon technologies, including green hydrogen and PtX.
The Fit for 55 Package Can Push Green Hydrogen and PtX Forward
Although there remains much work to be done, the International PtX Hub welcomes the proposals under the Fit for 55 package and their strong representation of the renewable sector. The Hub further looks forward to the publication of the hydrogen and decarbonised gas market package, which is expected later this year.
Bibliography
Abbasov, Faig. 2021. "Shippers Made to Cut Their Pollution at Last." Transport & Environment, 15 July 2021. https://www.transportenvironment.org/newsroom/blog/shippers-made-cut-their-pollution-last.   
Adamopoulos, Anastassios, Michelle Wiese Bockmann, Declan Bush. 2021. "EU Proposes Tax on All Shipping Emissions and to Limit Polluting Fuels." Lloyd's List, 14 July 2021. https://lloydslist.maritimeintelligence.informa.com/LL1137545/EU-proposes-tax-on-all-shipping-emissions-and-to-limit-polluting-fuels.   
Bellona. 2021. "Fit for 2030 Series: Hydrogen Enters Center Stage In RED." Bellona, 15 July 2021. https://bellona.org/news/climate-change/2021-07-hydrogen-enters-center-stage-in-red.
Buffet, Laura. 2021. "EU Misses Golden Chance to Right the Wrongs of Disastrous Biofuels Policy." Transport & Environment, 15 July 2021. https://www.transportenvironment.org/newsroom/blog/eu-misses-golden-chance-right-wrongs-disastrous-biofuels-policy.   
Chatzimarkakis, Jorgo. 2021. "Fit for 55: Looking for a Hero Net Zero." Euractiv, 19 July 2021. https://www.euractiv.com/section/energy-environment/opinion/fit-for-55-looking-for-a-hero-net-zero/.   
European Commission. 2021. "European Green Deal: Commission Proposes Transformation of EU Economy and Society to Meet Climate Ambitions." European Commission, 14 July 2021. https://ec.europa.eu/commission/presscorner/detail/en/ip_21_3541.   
European Commission. 2021. "Questions and Answers – Sustainable Transport, Infrastructure and Fuels." European Commission, 14 July 2021. https://ec.europa.eu/commission/presscorner/detail/en/qanda_21_3525.
Global Witness. 2021. "Fossil Hydrogen Exclusion From EU Renewables Law Undermined by Inclusion Across 'Fit for 55' Package." Global Witness, 14 July 2021. https://www.globalwitness.org/en/press-releases/fossil-hydrogen-exclusion-from-eu-renewables-law-undermined-by-inclusion-across-fit-for-55-package/.   
Kneebone, James. 2021. "Fit for 55: EU Rolls Out Largest Ever Legislative Package in Pursuit of Climate Goals." Florence School of Regulation, 14 July 2021. https://fsr.eui.eu/fit-for-55-eu-rolls-out-largest-ever-legislative-package-in-pursuit-of-climate-goals/.   
Murphy, Andrew. 2021. "Decades of Inaction on Flying's Climate Impact Are Being Replaced By Action. But Does It Go Far Enough?" Transport & Environment, 15 July 2021. https://www.transportenvironment.org/newsroom/blog/decades-inaction-flying%E2%80%99s-climate-impact-are-being-replaced-action-does-it-go-far.   
SkyNRG. 2021. "A Summary of the Proposed Sustainable Aviation Fuel Mandate." SkyNRG, 15 July 2021. https://skynrg.com/news-and-inspiration/expert-opinions/a-summary-of-the-proposed-sustainable-aviation-fuel-mandate/.  
Taylor, Kira. 2021. "EU's Green Hydrogen Plans Hailed As 'True Game-Changer' by Industry. Euractiv, 20 July 2021. https://www.euractiv.com/section/energy/news/eu-green-hydrogen-plans-hailed-as-true-game-changer-by-industry/.   

Todts, William. 2021. "What The EU's Climate Plan Means for Europe." Transport & Environment, 15 July 2021. https://www.transportenvironment.org/newsroom/blog/what-eu%E2%80%99s-climate-plan-means-europe#overlay-context=newsroom/blog/why-we-cannot-celebrate-yet-eu%25E2%2580%2599s-strategy-sustainable-finance