The International PtX Hub has made it one of its primary goals to create a critical mass of people who are enthusiastic about renewable PtX and green hydrogen and are convinced that humankind can maintain and expand its prosperity without fossil fuels. So far, more than 30 three-day PtX.Trainings took place in various partner countries and with German ministries, civil society as well as EU bodies. Upcoming trainings are with Tunisia, Morocco, and Thailand, as well as a Train-the-Trainers in January 2023 in Germany with experts from the PtX Hub's partner countries.
Train-the-trainers: Enabling experts to conduct the PtX.Training in our partner countries
Due to the high demand for trainings on Renewable PtX worldwide, the reach of the trainings is currently being upscaled. After a first course for trainers earlier this year, the PtX Hub conducted its second Train-of-Trainer event in the first week of October 2022. 14 experts from Germany spent an intense four-day training in Bonn studying the content and didactics of the PtX Hubs' Training on Renewable Power-to-X and Green Hydrogen, contributing with knowledge and experiences from their fields of expertise. In fruitful discussions, the participants discussed opportunities to further develop and improve the training material.
Among the training's renowned participants were experienced professors and consultants from the field of renewable energy and green hydrogen.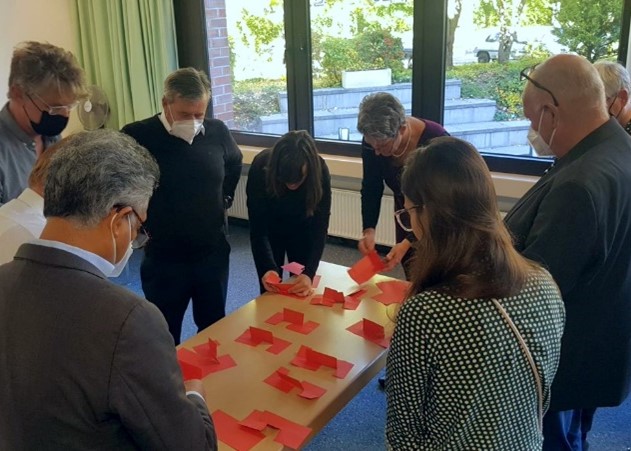 In addition to inputs from the participants, the technical training content was covered by Prof. Dr. Christoph Menke, professor at the Trier University of Applied Science. Several relevant hydrogen initiatives by GIZ were introduced, being potential sparring partners for future trainings in the partner countries, namely E-KORE (Energy Transformation, Cooperation and Regulatory policy), H2 Diplo, H2Uppp and H2PEP.  Didactical aspects, e. g. of virtual, face-to-face, and intercultural training situations were presented and discussed with Michael Zillich, educational consultant who was involved in both the creation and design of the Renewable PtX training and the Train-of-Trainer course.
 After successfully completing the training, the new trainers are now preparing to conduct trainings themselves in partner countries of the PtX Hub and will continue to add their expertise into the continuous improvement and expansion of the training content and didactics.
With the support of the growing number of experts and trainers, the Renewable PtX Training will soon be expanded by add-on modules on crucial topics such as certification, finance, and the role of PtX to defossilise heavy industry as well as a web-based formats.