In 2014, Tunisia announced its energy transition plan, which aims to achieve a 34% reduction of primary energy demand by 2030, as well as a reduction of carbon intensity by 41%. Moreover, the country plans to increase cost-effective and climate-friendly investments to scale up the share of renewables in the electricity production mix to 30% in the same year.
While the country is currently heavily reliant on thermal plants run on natural gas to meet its energy needs, energy policies of recent years have put a higher emphasis on renewable energy production. The use of wind and solar power for electricity generation has increased since the adoption of the Tunisian solar plan in 2015.
With more than 2,900 hours of sunshine per year and favorable wind sites both in the north coast and the country's southern region, Tunisia's location offers abundant renewable energy sources and a promising opportunity for PtX production. The upscaling of Tunisia's renewable energy sector serves as an important step towards the establishment of a successful PtX economy to meet the country's growing electricity demand while simultaneously diversifying its economy. With Tunisia currently relying on import to meet much of its energy requirements, a shift towards domestic production of renewable energy and green hydrogen also presents a chance for higher independence of the country's energy sector.
The Renewable PtX Training was held from 18-20 October 2022 in Tunis, with all participants and trainers being able to join onsite. The lecture was delivered by Torsten Schwab from the International PtX Hub, as well as one of the newly trained Trainers from the Hub's Train-of-Trainers workshop earlier this month, Prof. Dr. Josef Timmerberg. The training, based on the PtX Hub's material, was held as part of the project "Green hydrogen for sustainable growth and a low-carbon economy in Tunisia" (H2vert.TUN) implemented by the Deutsche Gesellschaft für Internationale Zusammenarbeit (GIZ) on behalf of the German Federal Ministry for Economic Cooperation and Development (BMZ) and the Tunisian Ministry of Industry, Mines and Energy (MINE).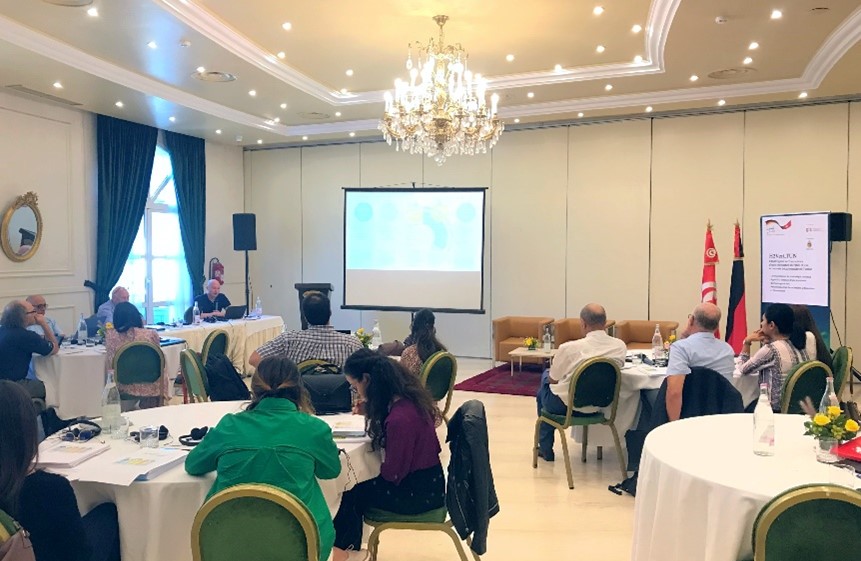 The training included a highly engaged and diverse set of participants from both the public and private sector, as well as academia, including
Ministry of Industry, Mines and Energy (MIME)
Tunisia Investment Authority (TIA)
Tunisian Electricity and Gas Company (STEG)
National Agency for Energy Management (ANME)
National School of Engineers of Tunis (ENIT)
Tunisian Chemical Group (GCT)
Ministry of Finance
National School of Engineering of Gabes
National Engineering School of Bizerte
More than 40% of participants for the training were women, with this number increasing to almost 60% for the in-depth seminar held on the third day.
The first two days of the training provided participants with an comprehensive overview of the Power-to-X value chain, from production, transport and storage to environmental frameworks and necessary policies. High participant engagement allowed for lively discussions and valuable insights into Tunisia's energy sector throughout the training and enabled an in-depth look at how to apply the Training's learning to Tunisia's requirements for an energy transition on the third day. After finishing up the general training around the topic of Sustainability, the second part of the third day focused on providing participants with a deeper insight into the training design, its key messages and anticipated learning outcomes, as well as the training's overarching aim in an international context.