South Africa has become an exemplary country when it comes to its efforts to obtain a sustainable and inclusive society. We can see this in the country's efforts to implement Just Energy Transition (JET) pathways. Those efforts include access to electricity by creating additional renewable energy facilities, which is complemented by measures to increase storage options, strengthen the electric grid and creating smart grids. To stimulate the transition, South Africa also promotes local manufacturing to increase their market competitiveness and creating new jobs and reskilling for employees in traditional fossil jobs. 
South Africa is working towards net zero by 2050. However, it is still a long way to go. Currently, coal is by far the country's major energy source and comprises around 80% of the energy mix. However, according to the 2019 Integrated Resource Plan (IRP), 24,100 MW of conventional thermal power sources, specifically coal, are likely to be decommissioned within the next 10 to 30 years. A conventional coal power plant has a lifetime of approximately 60 years – this explains 1) their decommissioning within the coming years, but also 2) the dire need to upskill employees within this sector – possibly for professions in the renewable energy sector.
First on-site PtX.Trainings in Johannesburg and Cape Town
This is the context in which the first on-site PtX.Trainings of the PtX Hub took place. After over one year of hybrid, but mostly virtual trainings, this was truly a pivotal change. It was also the very first opportunity for some of the newly trained renewable PtX trainers to practise and present what they learned during the "Train-of-Trainers" week that took place from April 25 to 29 2022 in Berlin.
The PtX Hub organised the trainings in collaboration with H2.SA, a project to promote the market uptake for PtX and green hydrogen in South Africa. Targeted towards public sector decision-makers, 22 participants joined the first training in Johannesburg from May 3 to 5. 29 participants were part of the second training in Cape Town from May 9 to 11.  Women made up 30 to 50 % of the participants.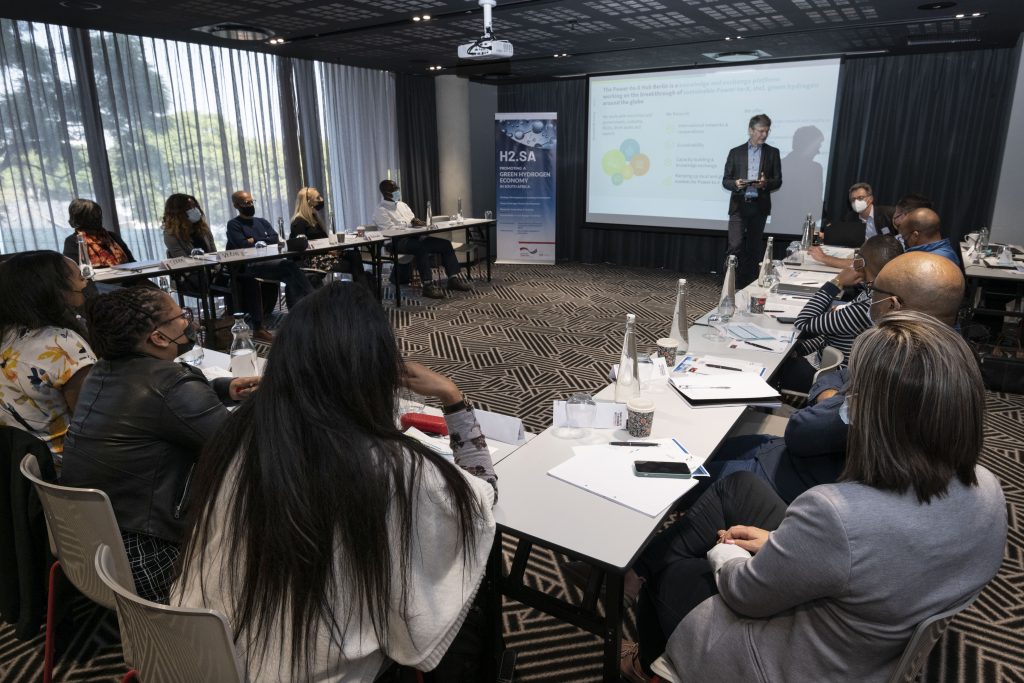 Vivid discussions on the opportunities and challenges for PtX in South Africa
Three Train-of-Trainer participants from April 2022 engaged in the two training sessions and put their recently acquired and extended knowledge on the topic of renewable PtX with a country-specific view to the public sector decision-makers. Specifically, this triggered and stimulated vivid discussions amongst all participants, both in Johannesburg and in Cape Town. The discussions addressed key sustainability issues such as the additionality criteria for electric energy and its feasibility and applicability in South Africa. Another key discussion evolved around certification schemes, their advantages and potential disadvantages, as well as the consideration of existing national or regional standards.
In the vivid group discussions that took place during the trainings, the participants collectively identified economic opportunities in green hydrogen in South Africa, as well as provided possible solutions to existing challenges. Those vary from developing a national strategy and regulatory framework and the right technology roadmap to the question of how to increase the amount of renewable energy, build capacities and skills for a future hydrogen economy, break down investment barriers and identify future hydrogen applications and markets.
The way forward: Strong collaborations and enabling policy frameworks
Both sessions ended off with the consensus that collaboration amongst all stakeholders, an elaborate integrated strategy, as well as enabling policy frameworks are critical to the success of developing a green hydrogen economy in South Africa.
The country can source from its great diversity, great knowledge and rich natural resources for its path towards net zero. Different roadmaps, plans and ideas will have to be consolidated and then materialised.
We thank the participants for their engagement!